By Eric Connor [email protected]
GREENVILLE — Facebook is often a place where pressing the "like" button is dismissed as innocuous acknowledgement or pored over for hidden meaning. It's the realm of "thoughts and prayers" and memes of encouragement.
Sometimes, though, it leads to a choice to take action.
Margaret Stegall chose to do more two summers ago.
In the span of 37 weeks, Stegall donated a portion of her liver to a stranger and ran in the New York City Marathon. In the same span, Janet Pierce Thorin began to claim a new life of good health.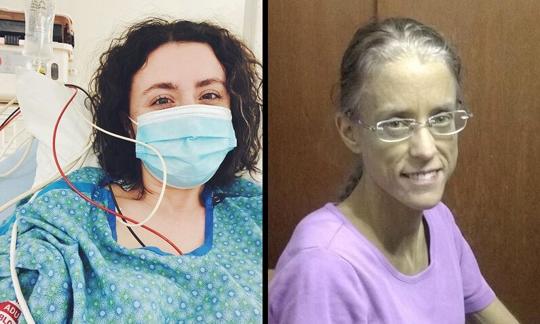 The lives of the two Bob Jones University graduates are forever intertwined.
In June 2020, Stegall was scrolling on the "BJU General Alumni" Facebook page and saw a post made by Thorin's family asking for people to consider testing compatibility for a liver transplant, which requires only a portion of the organ. Stegall, a 2016 graduate and director of development for the American Heart Association-South Carolina in Greenville, was prepared to hit the "like" button and move on, but then felt an urge to act.
Seven months later, she was on a flight to Denver to have part of her liver given to a woman she had never spoken with. The surgery was a success. The two finally met in person. Then came recovery.
It's been a different journey for the two, who remain in contact. But in each experience, they hope to encourage others to consider donating.
For Stegall, the recovery was swift. Eight weeks.
Then came the marathon.
Earlier this month, Stegall ran the New York City Marathon as part of the American Liver Foundation team in an effort to promote liver donation.
"I am not a runner," she told The Post and Courier in a recent interview. "I didn't run before I donated. But it was too good an opportunity to pass up to donate my liver and run a marathon in the same year. I wanted to show people that when you're a live-organ donor, you're able to return to a normal life."
Since she was 19, Thorin, a 2008 BJU grad, knew she had an autoimmune disorder that attacked her liver. In recent years, her long shifts as a nurse had become more difficult as time passed.
When she spoke to patients, she did so with a yellow, jaundiced face. Her feet began to degenerate, causing acute pain standing. Steadily, she had to cut her hours. In 2019, her health took a steep decline. Her weight dropped to 85 pounds. As she awaited a donor, the doctors told her she had to get up to 100 pounds to have the procedure.
She did.
Recovery has been a battle.
"I'm not exactly the poster child for what you want to happen in a transplant, but I'm also proof you can get through it," Thorin told The Post and Courier.
The doctors told her that her autoimmune disorder would likely cause her body to reject the organ. It did, but much sooner than they thought. They had to dampen her immune system, preventing her from taking medicine that helped her feet. She had an abscess and fluid in her lungs, followed by a hernia.
It wasn't until the end of September that she began to feel better. Now, she can take medicine for her foot again and the doctors have cleared her from complications.
Thorin said she feels gratitude for the simplest things.
"I'm just thankful to be able to do the laundry, as weird as that sounds," she said. "It does eventually get better, and you have to believe that. Honestly, I think it's just God working."
Transplant News Sharing // "Liver Transplant News from Latin America" – Google News from Source www.postandcourier.com