Four professors at the Department of Pediatric Oncology and Hematology in Asan Medical Center (AMC) have accomplished 1,000 cases of pediatric stem cell transplantation.
As the 1,000th case, they transplanted a nine-year-old patient with his father's hematopoietic stem cell (HSC) as the patient could not produce white and red blood cells.
The treatment removes cancer cells and HSC from blood cancer patients with leukemia or lymphoma, and transplants health HSCs. It is also necessary to fully cure patients suffering from hematologic diseases, such as aplastic anemia.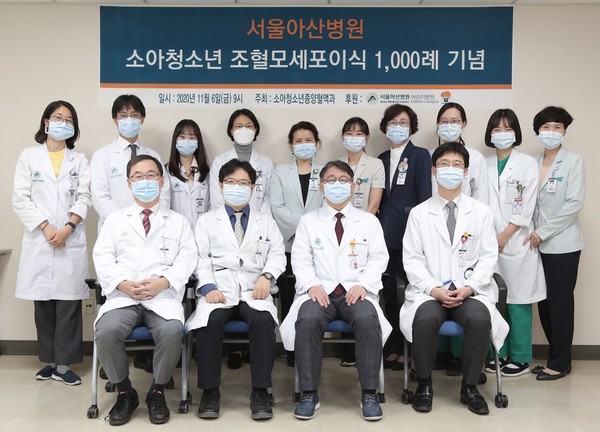 The hospital has conducted 70 transplant cases a year since 2011, starting with a bone marrow transplant in 1997. Last year, the professors carried out 20 percent of the country's pediatric hematopoietic stem cell transplants. According to the Asan Medical Center, the hospital marked an 84 percent success rate based on its extensive transplant experience and research, leading the domestic field of pediatric hematologic transplant.
Out of 70 pediatric stem cell transplants the hospital conducts a year, 20 to 30 are haploidentical transplant cases, in which only half of human leukocyte antigen (HLA) coincide, reflecting the hospital's leading know-how.
The haploidentical transplant requires other's hematopoietic stem cell transplant. As it is difficult to find donors with a complete HLA match, however, the professors transplant half-identical donors from patients' family members.
The medical team of Professor Im Ho-joon successfully conducted the haploidentical transplants in 10 severe cases of anemia patients in 2013 for the first time. Its successful rate of 93 percent is far higher than the world's average of 70 to 80 percent. The basis of such successful results was good teamwork among the medical crew, the team said.
"After continuous research for safer and more effective hematopoietic stem cell transplantation method, we finally could carry successful transplants on 1,000 pediatric patients with cancer or incurable hematologic diseases by developing haploidentical transplantation method," Professor Im said. "We will heighten the success rate further with our research so that more children can recover."
Transplant News Sharing // "Bone Marrow Transplants" – Google News from Source www.koreabiomed.com